=
Zhen got a chance to put some of the tasting techniques from The Art of Chinese Tea: Fine Tea Tasting this week with her mom, Jianli. To say Jianli is a tea sommelier doesn't really begin to capture the depth of her skill. She took Zhen tasting adventure as they tried over a dozen teas and it was not only delicious but very educational.
I'll go over some of the info Zhen sent home to me in no particular order (unless she forces me to straighten it all out).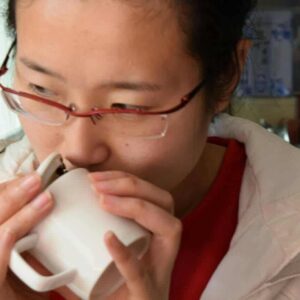 The Taste of Time - Sheng Pu'er 2008 - 2012 - 2015
Zhen and Jianli had some fun with these three sheng pu'er teas. They are all from the same material and are just different ages. These kinds of tastings are fun because you are really focusing on the aging. Of course there will always be differences in climate and growing conditions from one season to the next, but it is still a great way to experience the difference a day (or a decade) makes.
The 2015 reminded Zhen of our aged Oolong from 2002 – Ai Jiao. Being a younger tea, it had more edges than the other two. The 2008 was a stronger taste containing a little more bitterness and astringency than the other two and her favorite was the 2012. It had that thick, full mouthfeel that we both love in an aged tea.
Highlight of the day: Bai Sui Xiang
Bai Sui Xiang 2015, a small batch Yan Cha from the Wuyi preserved area. The ladies only had one serving of this tea. It's known in China for lowering blood sugar, but the flavor was what motivated our favorite tasters toward this tea. Simply described amazing (but I'll ask Zhen for more notes).
Now here is an epic side by side! Six Oolong teas brewed in groups of threes. What they all had in common was that they were all from Fujian.
Front row (right to left): Zhangping Shui Xian, Tie Guan Yin Xiang 2015 Autumn, Tie Guan Yin 2015 Autumn.
Back row (right to left): Bai Ji Guan, Tie Luo Han, Shui Jin Gui.
While I am familiar with Zhang Ping Shui Xian and Tie Guan Yin, I am quite curios about the Tie Guan Yin Xiang. Xiang mean flavor so I am wondering if that one was made to taste like Tie Guan Yin using other cultivars. If you have any questions be sure to leave them below. I'll pass them onto Zhen and Jianli and we'll see if we can get some answers.
This tasting focused on the difference between the big leaf cultivar and the Tai Di (bush) cultivar. The big leaf choice was a 2003 Sheng Pu'er and the Tai Di was a 2004, both from the Menghai area. The 2003 was smooth with light floral and fruity notes. Simultaneously mellow and full bodied with clear, bright liquor that was taking on a thick and rich feel. By contrast, the 2004 had a hint more bitterness and some astringency. Zhen and Jianli suspect it is from Simao. The mouth feel wasn't as thick as the other one either, but it was by no means bad.
Clash of the Titans (well... mountains at least)
Then the next two that Zhen and Jianli tried were aged sheng pu'ers from the same year, but from different mountains. 'Drinking' different mountains is fairly popular lately. On the left hand side in all the pictures is Bu Lang Mountain, which has a fair amount of commercial fame. The other is from Ai Lao Mountain, less popular but starting to gain some notoriety. We often get asked what mountains our dark teas come from and we have actually been avoiding the teas from famous mountains because they tend to be over priced and are often counterfeited. Perhaps that will change.
Here's Zhen's tasting notes: The tea from Ai Lao mountain was that was extremely smooth and beautiful, soft and rich. It was a sweet and delightfully feminine sheng pu'er. In terms of flavour the Pu'er from Bu Lang Shan was quite a bit stronger. Not bitter or astringent, but the flavour was overt and unmistakable. After 5 or 6 infusions it did mellow out, but remained wonderfully flavourful. Both teas were really consistent throughout the infusions, with the Bu Lang having a slightly more diverse profile. Both of the brewed leaves had a comfortable woody aroma and reminded my mother and I of a rain forest.
Lu An Hei Cha - 7542 Menghai
Lu An Hei Cha is made using the same material as Lu An Gua Pian, a green tea. This one is a somewhat famous 7542 from Menghai made in 1993. It's more commonly known as An Cha or sometimes simply as 7542 (which is in my opinion at least a little unfortunate). I didn't get tasting notes from Zhen on this one, but I suspect it was mind blowing. It was at this point I felt compelled to tell her how jealous I was that I wasn't there, even though I had been feeling that way with every picture of tea. I mean pictures of tea are kind of cruel in a way, aren't they.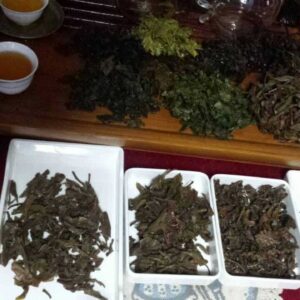 These last pictures try to show all the teas that Zhen and Jianli enjoyed. I suspect they spent the whole day getting through those. They brewed each to exhaustion and I am sure they had a great time. Now you probably have tonnes of questions so please don't hesitate to leave a comment below or on any of our social media outlets. This tea trip is for you. I know I have more than a couple questions and I am eager to send a list off to Zhen and Jianli and hear their answers.