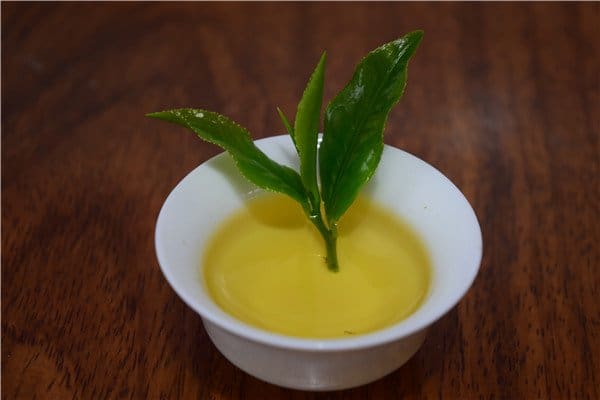 My experience with good tea, and I mean pinnacle tea – top notch stuff, usually goes one of two ways. The first and more obvious reaction is one of amazement after the first sip. The other, more subtle reaction, is that there's 'nothing special' about the tea when having it. The taste is great but it doesn't knock you off your feet… until you go back to other teas in the same category only to realize your whole paradigm of that tea category has been irreversibly elevated. I've had both of these experiences with Fenghuang Dan Cong. The first experience was when I first tried Fenghuang Dan Cong back in 2007. It blew me away with the very first sip. After that, Fenghuang Dan Cong became one of my daily teas, but I was never able to find another Fenghuang Dan Cong that tastes close to that precious first sip. Going to Wudong Mountain (乌岽山) to find a good Fenghuang Dan Cong was one of my main goal of this trip. Wudong shan didn't fail me. Their teas just blew me away, even more impressive than that long chased first sip! I found Fenghuang Dan Cong heaven!
Spring is considered the best season for tea because the tea trees and bushes produce new sprouts after a winter's rest. However, it's not necessarily a good season for the tea producers because in most tea regions, spring is also a rainy season. While it's not rare to see farms picking tea well into early summer and beyond. these leaves are all processed into mass consumed low end teas. With great materials like Fenghuang Dan Cong from Wudong Shan, the tea must be plucked during spring on the sunny day.
Not surprisingly, it was a rainy day when we got up to Wudong Shan. Setting off from Shantou City, we drove about 2 hours to get to the little town called Fenghuang at the bottom of Wudong Shan area. Our final destination was Wudong Village located at approximately 1000 meters altitude on the upper middle part of the Wudong mountain range. It took us another 1 or 2 hours driving through the pouring rain and fog to get there. We couldn't even see the village until we were almost on top of it.
Because of the rain, there was no tea being picked or processed that day. It was like a little break in the busy spring tea season for the tea producers. However, there's no break in doing business. The small village was filled with cars from all over the country causing traffic jams in the daytime. These professional tea buyers usually purchase maocha (half done tea) and re-roast the teas themselves. The rain provided us a chance to chat and enjoy tea for the whole afternoon.
I have to say that the Fenghuang Dan Cong from Wudong Mountain, regardless of aroma type or grade, all have their unique charm that other regions simply cannot come close to. The look of the dry leaves instantly indicates its quality. Once brewed the aroma of the liquor is powerful but not overwhelming. And finally a sip – I was totally blown away by its rich flavour. It has a delightful floral aroma while the liquor has its own depth and thickness of taste. The aftertaste lingered for a long time in my mouth and nose. The brewed leaves are tender and strong, easily holding the shape of the gaiwan when poured out. Drinking Fenghuang Dan Cong from Wudong Shan was one of the most divine moments during my whole trip. Furthermore, the clean and complex taste of the tea made me eager to learn more about the process in the coming days. Among 6 categories of tea, oolong requires the highest level of process technique. No matter how good the fresh leaves are, without a proper processing it will still turn out to be an awful tea.
Wudong Mountain - Day 2 & 3
We were really lucky that our second day there was a sunny day. We went up to the top of the Wudong Mountain to see the famous Tianchi (Heaven Lake), and after the quick tour we went back to our producer's place and had some supreme level fine teas. One of teas we tried was from a tree called Shan Wu (闪午) which is over 400 years old. Though we only caught the last few infusions of the tea, it still tasted amazing. The power of this ancient tea tree was still present after over 15 infusions.
400 Year Old Fenghuang Dan Cong
Although it was sunny outside, it still wasn't time to pick the tea yet. Because it had been raining for several days prior, the tea leaves needed some time to dry out before plucking or else the aroma won't come out during the withering sunbath. This is especially crucial for high end tea. So the tea picking that day wouldn't start until the early afternoon. Taking advantage of the break time, we went up to Wudong Mountain again to see the ancient tree tree that we just savored. Mr. Guo showed us the way and gave us a tour of the tea gardens on the way.
When the plucking was finally able to be started, it was to be a premier cultivar of Fenghuang Dan Cong called Brother. It has relatively lighter leaf color but is rich in taste and aroma. The process from fresh leaves to maocha, takes about one day. And every step along the way during this intense 24 hours is crucial to produce a top quality tea.
The clock starts to ticking once the tea is picked from the tree. After a brief sun bath (shai qing: 晒青), the tea is moved indoors to cool down for couple of hours (liang qing:晾青). After these two withering (wei diao: 萎凋) processes, it's time to shake the leaves (yao qing: 摇青). In today's highly mechanized oolong process, Mr. Guo's family still insists on hand shaking the premium grade tea leaves. The leaves are shaken 5 times at approximately 2 hour intervals. How does one know when to start shaking and when to stop? It's all in the look and smell of the leaves. It is purely intuitive, experience based work. The weather, the temperature and the leaves themselves all affects the timing and mistakes can mean a ruined batch of leaves. The shaking process didn't finish until 2:00 am, but that doesn't mean it's time to go to sleep. It takes a couple of hours for the leaves to oxidize, so while we went to sleep, the producer had to get up around 5 in the morning to check on the leaves. Because of the cold temperatures this year, (though it was summertime in Chaoshan area, we still had to wear thick fall jackets on the mountain), he had to cover the leaves to help with the warmth, and the leaves were not ready for kill green (sha qing: ) until late morning. Then it's rolling (rou nian: 揉捻) and drying (hong gan: 烘干), the first phase of the tea processing is finally done. But it's just maocha. After a while, the tea has to be roasted to be finished. For premium grade teas, two to three roastings are required, and the interval between each is typically a couple of weeks or even months. And that's how authentic, fine quality oolong is made.
Wudong Mountain, My Love
The Fenghuang Dan Cong from Wudong Mountain is the best Fenghuang Dan Cong I have ever had. It reminded me why I love this tea so much.
Jianli first met Mr. Guo in late 1990s. He was the first one to walk out of the village and begin introducing Fenghuang Dan Cong to the rest of the country through various showcases. In the early days of his quest Fenghuang Dan Cong was not well accepted at all, but as time went by and Mr. Guo continued his mission, Fenghuang Dan Cong gradually won recognition in the country. The famous Songzhong Dan Cong elevated the price of the tea from Wudong Shan to another level, and today Mr. Guo and his sons don't have to travel around to showcase their teas. People from all over the country flock to Wudong Mountain for their tea. While the good margin and easy sales are a result of their extreme attention to detailed processing, it also guarantees that they can continue to maintain this level of care for generations to come.