Coffee & Tea NYC put on by Starfish Junction is always a great time for us! We've been participating since 2015 with a break in 2016 when Zhen was in China touring the tea regions with Jianli Wu (more about that here). We had another great year sharing tea with you, and I wanted to share some of my impressions and observations. As we were getting set up on Friday, one of the first things I noticed was that the number of tea-related exhibits seems to be growing every year, definitely a good sign. I also love the excitement that builds around this festival, I don't know if it's because it's in NYC and were are from 'far away' or it's just because the festival is so awesome, but on Saturday morning we had to pop out around 9 am, an hour before the festival opened and the line up was already growing rapidly! I felt a little sad for the folks outside since it was pretty chilly, but we made sure we had plenty of tea ready to go for when they got inside! Once the crowds were inside, it became obvious pretty quickly that things are changing on the New York tea scene. People were spending more time with our tea on display (the dry leaf), taking in the aromas and asking questions. In fact, the hunger for information was huge this year! Many of you asked about where the teas were from, how to best brew the teas, the differences between the teas, and while people have always been asking these types questions, the conversations ran deeper this time. You tea lovers in New York are getting to know tasting grade tea and the questions and curiosity definitely reflected that, and so did the attendance at my first tea talk in NYC!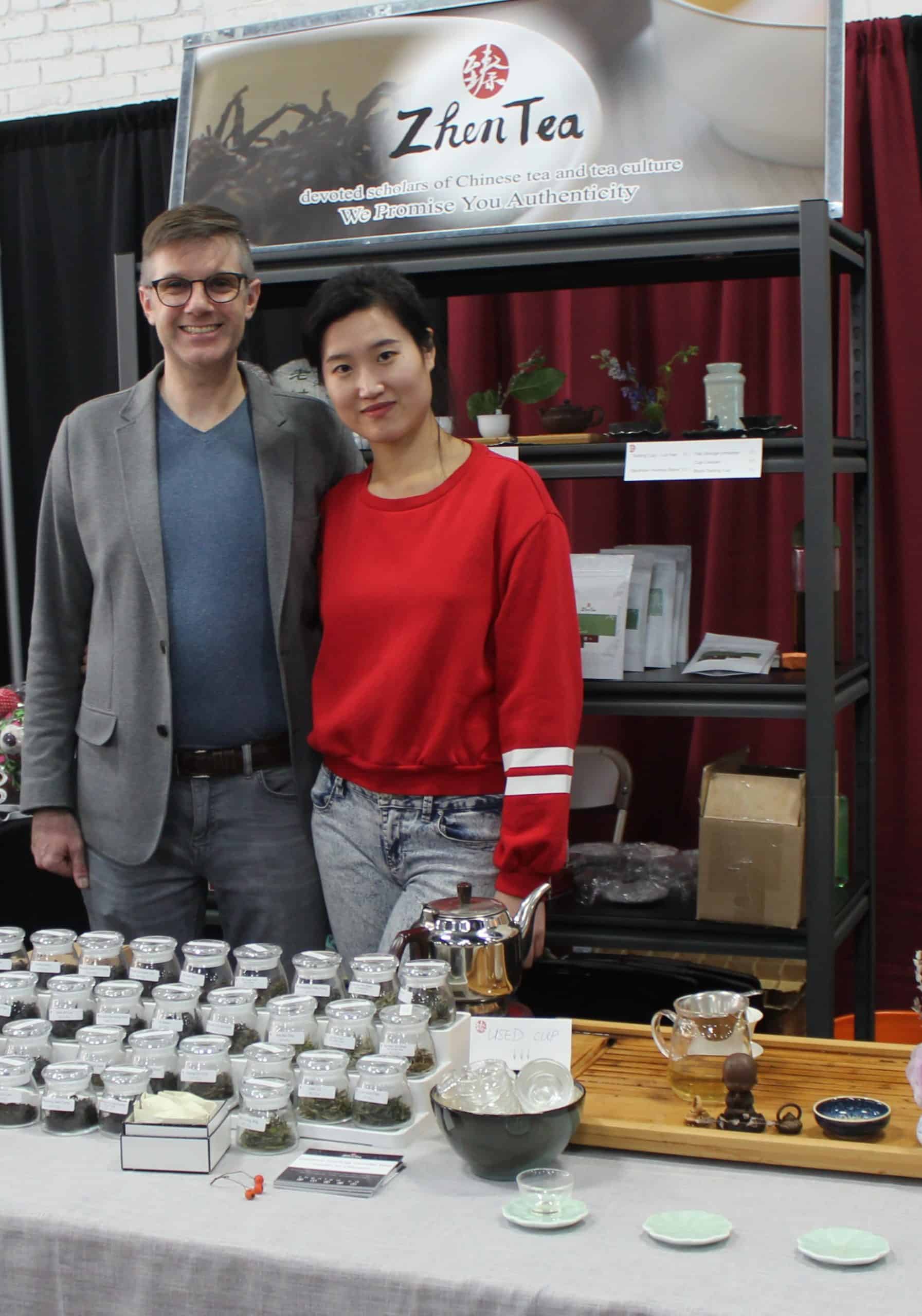 Another great thing about Coffee & Tea NYC is the seminars. There's a wealth of information available and I did my first talk this year! I was both excited and, I'll admit, a little nervous. I mean, Zhen and her mom know a LOT about tea. It's really hard to convey the volumes of information they know because most people don't know that there is even THAT MUCH to know about tea. There is. But I've learned a thing or two over the years, and one of the main things I have to offer is actually my 'newness' to tea. I understand where many of your questions are coming from. I can relate to how daunting and foreign the notion of tasting grade tea can be. I was there not too long ago. This huge field of flavours and experiences has just opened up to me as it is opening up to many of you, so with that, I got myself pumped up to infuse the crowd with information, and more importantly, passion and curiosity about tasting grade Chinese tea. If you were there, let me know what you thought in the comments. And keep the questions coming, that's what I'm here for.
Phil talking about Tea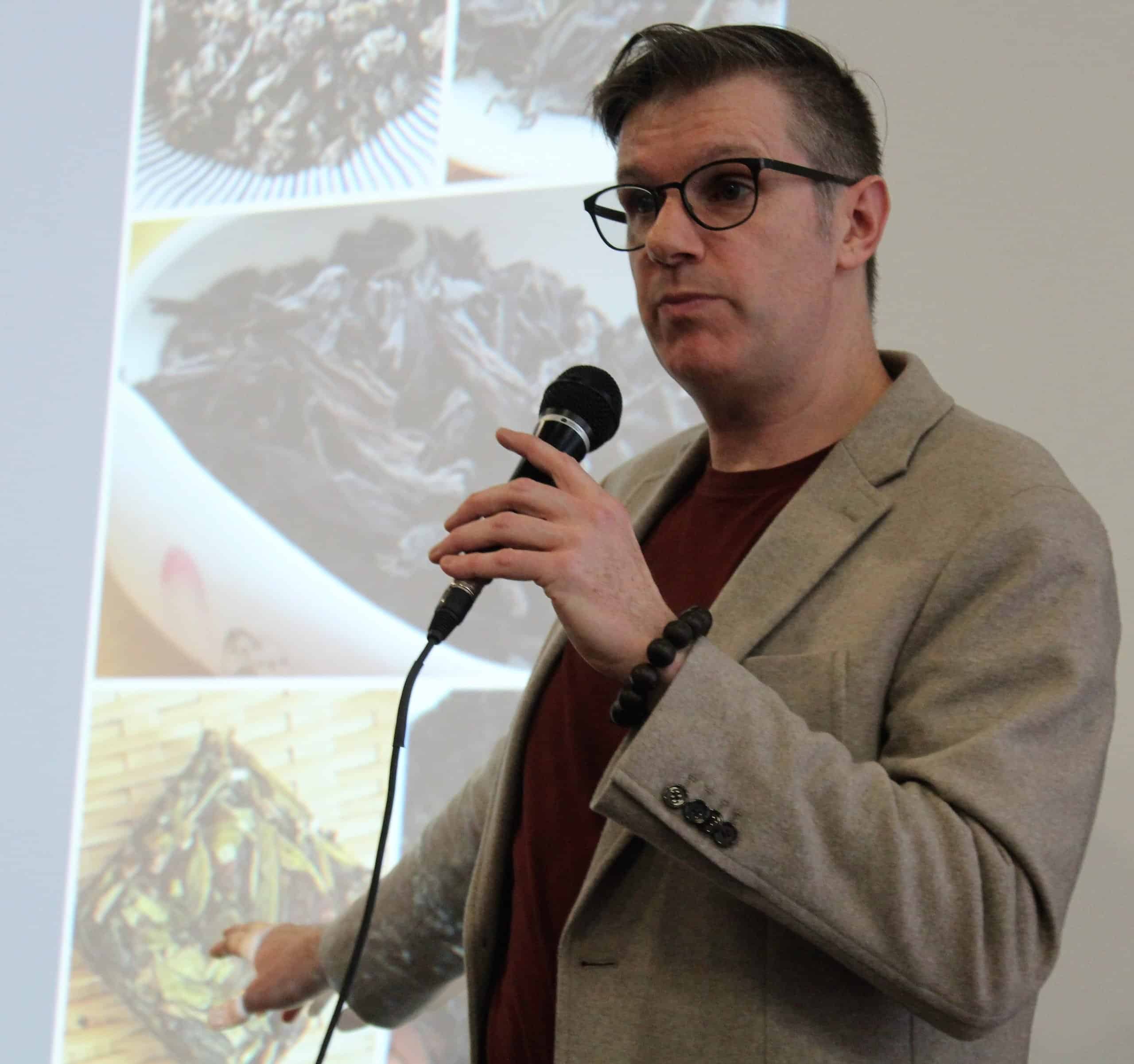 Another popular question we hear at Coffee & Tea NYC is 'what are your best selling teas this year' or 'what is your most popular tea', which I usually answer with a question like 'what kind of teas do you prefer?' I mean, I never know until after a show what our most popular tea was and I want people to walk away with something they are going to love rather than something the rest of the crowd loved. But now that the dust has settled I can tell you some of the fan favourites from this year. In the oolong category, Fo Sho, a rock tea with citrus notes completely sold out! Don't worry though, we still have Autumn Tie Guan Yin and Aged Tie Guan Yin, two other oolongs that got a lot of attention from the New York tea lovers. We saw a big interest in Pu'er but even more exciting was the eagerness to branch out into other dark teas. Our dark teas from Hunnan province like Aged Tian Jian and Fu Zhuan Premium we're a big hit! Yellow tea always gets lots of attention because it's so rare. Our Huang Da Cha yellow tea was a big hit with its bold chocolatey nose and fresh flavour. And for the folks who love green tea, our Da Fo Long Jing with its stunning matcha-soy-nuttiness created a few ear to ear smiles.
More curiosity about tea and in particular, tasting grade tea
More interest in a broader range of teas
More tea exhibits
All of these things had me wondering. Is New York ready for a Tea Festival? There's nothing wrong with coffee, of course, I enjoy a cup every now and then myself, but it's starting to feel like New York could handle and would actually LOVE a tea festival! What do you think?