Teapot Shopping
Today, we went to the other side of Guzhu Mountains – Yixing, Jiangsu province. The first thing that comes to most people's mind when talking about Yixing is Zisha Teapots.
Zisha, directly translated means purple clay, however even an experienced Zisha teapot maker cannot predict final color of the pot from the raw color of the clay. It has to be tested through real firing, before the finished colour of the clay is revealed.
It's well known that Zisha teapots have special effect on the tea due to their unique porous structure. After long use, the teapot will give out the light taste of the tea by simply pouring in pure water. But is this why Chinese love Zisha teapots so much? The main reason Zisha pots are so treasured is actually the same reason jade is cherished – they all change after using and care, and different people will have slightly different results. It's personalized piece of art, which depends on a careful loving touch to become truly precious. As the teapot gets shinier and smoother, a truly delightful sense of achievement has been well earned.
 New Member in My Collection
I have been searching for a Duanni teapot for a while. Duanni is a kind of Zisha that is usually lighter in color. Duanni has a very different color range compared to traditional dark purplish color, and most of Duanni teapots have a yellow tone. This unique light coloured tone is what caught my eye, but many people have warned me that it's very hard to cultivate a Duanni teapot well. The nontraditional color also makes it challenging – it's very likely to get spotty during usage.
But I still decided to give it a try. My ideal teapot would have been a small (around 100 ml) light-colored Duanni teapot with bamboo decoration. What I found was very close, but bigger in size. The clay is Zhimaduan (Sesame seed Duanni). The name is a metaphor of the tiny black dots in the clay. The teapot really breaths well as the color changes when hot water is poured on it. I really look forward to see how this teapot goes.
Besides Zisha teapots, Yixing is also famous for its green tea and black tea. Interestingly, locals drink black tea more than green tea while even though Jiangsu and Zhejiang provinces are predominately thought of as green tea regions. My guess is that it's related to its prosperous Zisha industry. Black tea is the better suited for cultivating Zisha utensils, and by better suited I mean the fastest to see change. Few people use Zisha teapots for green tea because the "breathable" Zisha teapots weaken the desired feature of green tea — that fresh and brisk aroma.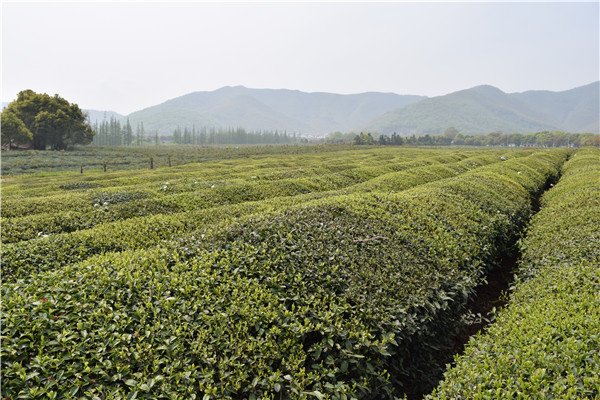 Summary
The main reason we came to Changxing was for the wild tea garden. We wanted to make some handmade wild Guzhu Zi Sun. Unfortunately, we didn't succeed. It's hard enough to find a truly skilled tea maker and even harder to find one that's willing to make tea by hand. It's is an extremely exhausting job. When tea season arrives, it's weeks on end of early mornings and late nights, and a slight distraction leaves your hands covered in blisters when pan frying tea by hand. With improvement in standards of living, fewer and fewer people are interested in making tea, especially green tea and in a rich region like Jiangsu or Zhejiang it's almost impossible to find producers to make tea by hand (Long Jing is not included, that's another interesting topic).
This trend benefits the wild tea garden. Because the locals have another source of abundant income with much less work. Since it's wild, the tea requires much less work. Then only have to hire people to pluck tea to fulfill orders. They don't have to trim the bushes, fertilize them, or clear the weeds. The Guzhu ancient tea garden has a more bio-diverse environment than any green tea garden I've ever seen. I especially love that the bushes there are grown from seeds. Though cuttings as a mode of propagation guarantees the uniformity of the flavour, seeds present better taste in the end. That's the reason why the tea from this wild tea garden has a smoother aroma, a richer taste, and a longer aftertaste.
It was so beautiful here we were sad to leave Changxing. But the time had come for us to head to Menghai, Yunan to learn more about Pu'er.